Joliet sings the blues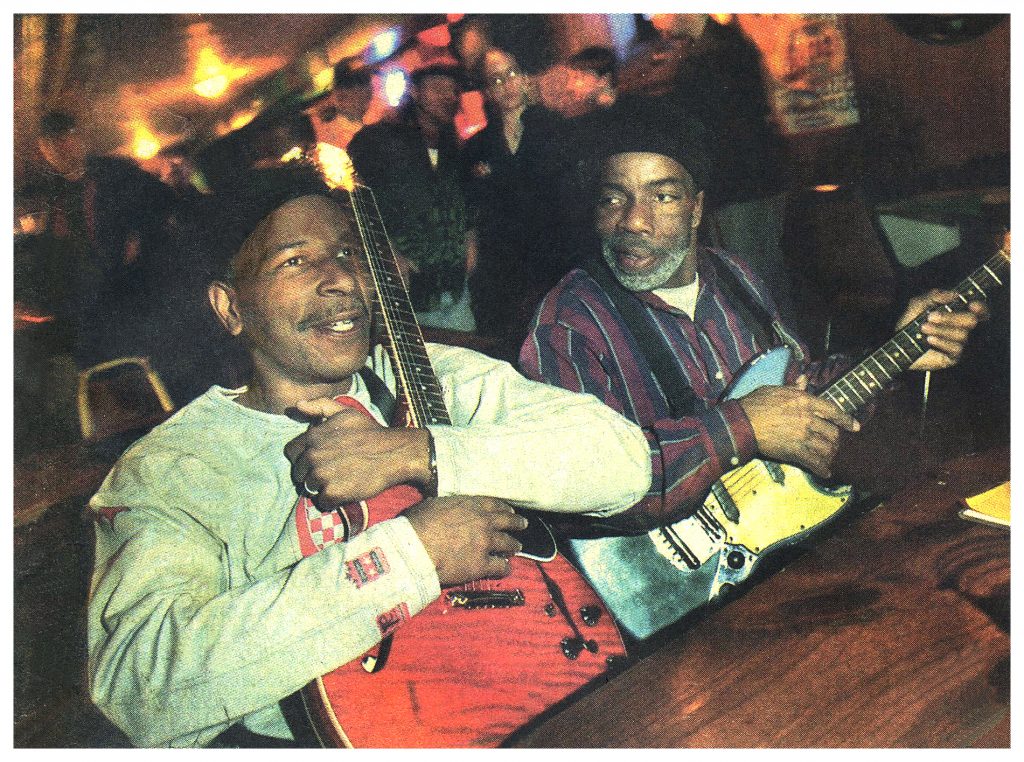 Area continues deep history in music genre
If scenes from Joliet's history played out on a movie screen accompanied by a soundtrack, it would be laced with songs from Robert Johnson, Muddy Waters, Elmore James and Howlin' Wolf.
That's because the Joliet area has a history entrenched in the blues, as deep as the limestone in the rock quarries, as gritty as the steel on the East Side train tracks.
The blues are alive and well in Joliet, stronger than ever, thanks to some hard working bands and fervent fans of the music.
With Buddy Guy coming to town on March 7, It's appropriate to stop and take stock of the local blues scene, which is thriving thanks to blues jams at bars throughout the area; a new blues bar and others booking blues acts; local mainstays and new blues bands keeping the music alive in Joliet; and a weekly radio show devoted to the blues that broadcasts from the Rialto Square Theater.
Armando "Mondo" Cortez, lead guitarist of the Chicago Blues Angels, is from Joliet and is well known in musicians' circles. He plays locally at places like "Doen From the Tracks", "Blues Etc", "Just One More", "The Uptown Tap" and "Carters Place" in Lockport.
One CD Released
The band has one CD out called "Movin Out," which was released in 2000. They've been touring the world since to support it, and are currently working on a new one.
Cortez is happy with the blues scene in Joliet. "I think it's doing really good, it's one of the hot places where bands can come in to play," he said. "We have a lot of good venues here in town, we have a good following and people really like us." Jeff Reid, owner of "Down From the Tracks" bar in Joliet, agreed with that assessment. "They're my best blues band," he said. "They pack the place. It's unbelievable how much business you can get from one band."
The group plays there again March 7, Cortez said. "We're playing after Buddy Guy's concert," he said. "So when people are done at the Rialto, they can come by for some more blues music."
Cortez recently spoke with Henry Hammond, a Joliet blues historian and owner of the former blues club The Sippin' Easy. "He told me that Buddy Guy ran a club out on Patterson Road, called Club 99," he said. "He played there and at a place called The Rock Inn on Lockport Road. B.B. King used to play at a place called The Coliseum, in Joliet. All the Kings – Albert King, Freddy King, B.B. King – they all played at Club 99. Joliet has a huge blues history."
Cortez said that Buddy Guy told him personally that during the hard times of the seventies, Joliet was his "bread and butter," he said. "A lot of the blues greats used to be there, like Little Walter, Muddy Waters… we had all the major blues legends play here in Joliet," Cortez said. "But there's a lot of really good talent here now, too. Joliet's got a really good blues thing happening and people of all ages really love it."
Blues Jams
Keith "Junior Blues" Zofkie is one such person. The twenty-six year old Lockport resident said he got a lot of his experience playing blues jams alongside blues veterans like Timothy "Twist" Ferguson and Al "Hurricane" Spears. He started playing blues guitar in high school, when he discovered the genre from listening to blues based bands like AC/DC and Led Zeppelin. "It's the only kind of music that gets you down deep in the soul," he said. "I love the blues, and there's so many good players out here. I have learned so much so fast just from playing with some of these guys out here… you don't get that in Chicago. I have played in Chicago and its not the same." Zofkie is recording his first album at the end of the month.
Pauline York of Crestwood is another popular area blues artist. She fronts the Pauline York Blues Band and hosts a jam night at Carter's Place on Wednesdays. She's got one album out right now called "Blackberry Wine," available for sale on her web site.
She is married to Mike Saracini, who hosts "The Basement of Blues " show as Chicago Slim from five to nine p.m. Sundays on WYKT-FM – 105.5
"When I started doing it seven years ago, I thought, 'A blues show out here?' I didn't think it was going to go over well." he said. " I was taken totally by surprise at how many people are into it. I did not figure it was going to go over well. But to this day I hear from people sixty-five, seventy years old, and they're going crazy over the show."
His approach to picking and playing the music is very similar to a musician picking a set list. "I dont play all the stuff that I like," he said. "When I go in there, I have no clue what I want to play, I basically go off the phone lines – what are people asking for, low down or high end stuff? And I refuse to play Stevie Ray Vaughan, Jimi Hendrix,\ and the Allman Brothers. I consider that rock 'n' roll, people can hear them all over the place and I don't want to waste the small amount of time that I have on stiff like that."
He's very pleased with the blues scene in Joliet. "A lot of bands from Chicago would just die for the chance to come out to Joliet or Kankakee or the surrounding areas, but club owners just assumed they can't afford to have them out, but that's not the case," he said. "I've heard from a lot of listeners who hire bands from Chicago to come out and play a private party, and if they can do that, why can't club owners?"